Leiston-cum-Sizewell Town Council
PLEASE CLICK HERE FOR COVID 19 EMERGENCY MEASURES
BECOME A TOWN COUNCILLOR
The Town Council is currently seeking to co-opt a resident onto the Council to take up the casual vacancy that currently exists. If you would be interested in becoming a Councillor please contact the Town Clerk.
E mail: townclerk@leistontowncouncil.gov.uk or Tel: 01728 830388
The Council will make a decision at their 1st September meeting so please get in touch by 25 August (2020).
The Town of Leiston, with the adjoining hamlet of Sizewell, is situated on the Suffolk coast roughly halfway between Felixstowe in the south and Lowestoft in the north. The administrative area of Leiston-cum-Sizewell has a population of about 5,400 and prior to local government reorganisation had its own Urban District Council carrying out the majority of functions and services for their community. The area is now administered by Suffolk Coastal District Council, which has offices at Melton Hill, Woodbridge. The various strategic services, e.g. highways, education, fire service, etc, are the responsibility of the Suffolk County Council. Leiston is a sector for the Suffolk Police Authority with a Police Station in Kings Road which is used as a base for our Safer Neighbourhood Team. The Anglian Water Authority is responsible for sewage disposal services and the Essex and Suffolk Water Company supplies domestic water. Whilst the town is to some extent in a rural setting it does have good road links with the A12 and there are regular bus and train services to and from the major centres.

The town is well served with residential accommodation and some recent, carefully planned, developments have provided attractive dwellings. The Suffolk Heritage Housing Association has two complexes of sheltered accommodation in the town and there are three privately run elderly persons' residential homes.
Town Facilities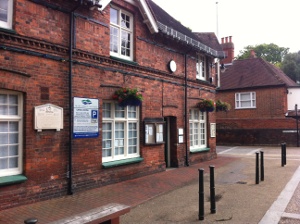 The Town boasts a substantial number of shops and service outlets, mainly within the centre of the town principally along High Street and Sizewell Road, which provide for the needs of the local and surrounding community. The town is well provided with parking, with local authority pay-and-display car parks at High Street and Sizewell Road and "free" car parks at Main Street and Valley Road, the later being "long-stay".
Private car parking has been provided for shoppers at the rear of the Solar Superstore and for general use off Platers Walk at the rear of new shops in High Street. Although Leiston-cum-Sizewell is not generally recognised as a seaside town it is only a short walk to the beach at Sizewell which has always been appreciated by resident and visitor alike. Ample provision has been made for parking of cars on the cliffs at the seafront, and for coaches alongside the refreshment kiosk. The long length of beach is excellent for bathing and enjoyable walks can be experienced southwards under the cliffs to Thorpeness or northwards to Dunwich taking in the RSPB Reserve at Minsmere.

John Rayner, Town Clerk
01728 830388
email: townclerk@leistontowncouncil.gov.uk